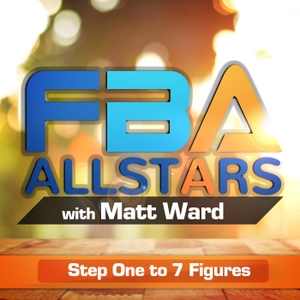 TRUST ME, DON'T DO IT: The Anti-Nike Amazon Success Formula – ALL30
05.04.2018 - By FBA ALLSTARS
JUST DON'T DO IT…emotions, actions and rash decisions can ruin an Amazon (or any) business. Take the time (not too much) to consider private label opportunities and make sure strategies align with your business goals. Here's why I finally decided money wasn't everything in making a kickass business brand.
Today's Show We Cover
* Why taking action TOO soon can be dangerous
* Why you NEED to check out our product selection episode on Jungle Scout
* How I look at long term business success and brand building
* The reason I ALWAYS get quotes on a product idea before deciding
* Why I did not launch a massively profitable product
* The problems with emotions in business
* One way to avoid HUGE mistakes that hurt you and your business
* Why product research is perfect for pushing the Amazon game
* What you NEED to know about private label reinvestment
* Why reinvest MORE money into your Amazon business isn't the best decision…IMO
* How to push your limits to success
* Why awesome products trump sexy sales every day
* The perfect problem we all want
* Why rushing is really just a formula for failure
Screw It, Let's Do It.
Want 1-on-1 coaching? Call Nemo!
JUST DON'T DO IT…emotions, actions and rash decisions can ruin an Amazon (or any) business. Take the time (not too much) to consider private label opportunities and make sure strategies align with your business goals. Here's why I finally decided money wasn't everything in making a kickass business brand.
Today's Show We Cover
* Why taking action TOO soon can be dangerous
* Why you NEED to check out our product selection episode on Jungle Scout
* How I look at long term business success and brand building
* The reason I ALWAYS get quotes on a product idea before deciding
* Why I did not launch a massively profitable product
* The problems with emotions in business
* One way to avoid HUGE mistakes that hurt you and your business
* Why product research is perfect for pushing the Amazon game
* What you NEED to know about private label reinvestment
* Why reinvest MORE money into your Amazon business isn't the best decision…IMO
* How to push your limits to success
* Why awesome products trump sexy sales every day
* The perfect problem we all want
* Why rushing is really just a formula for failure
Screw It, Let's Do It.
Want 1-on-1 coaching? Call Nemo!