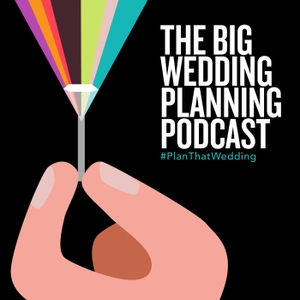 Chaya and Morgan join today to talk about how the 'biggest, queerest wedding of the year' surprised even the two brides.
Theirs was a 2020, wedding that happened during the Pandemic which as you can guess turned into something totally different than what was planned. Like way different! Like 10,0000 people watching the live stream on Facebook, kind of different! Despite initially thinking they wanted a small, intimate backyard wedding, they were still struck by the effects of COVID, requiring them to rethink the whole day.
Chaya and Morgan live streamed their wedding to over 10k people. Using the internet's wide resources of queer, BIPOC, they were able to pull off a beautiful day.
The New York Times wrote an article about their wedding and describe's Chaya's career as follows: "Ms. Milchtein, 25, has an eclectic career as a style influencer, writer and automotive educator. Her website and blog is called Mechanic Shop Femme, where she also writes about plus-size fashion."
Chaya also teaches online classes for car maintenance, how to buy - best way to insure - how to not get scammed. She's an automotive educator, writer and speaker - with an empowerment platform.
Big Takeaways
If you are doing a live stream (YouTube, Instagram, Facebook, Twitch, etc) of any kind, make sure you get the rights to use the music, or they will cut off your feed!
Make sure there is proper wifi in the exact location you are. Test it as far in advance as you can!
You can choose which parts of your wedding are important to you! Wear what you want to wear, do what brings you joy.
Links We Referenced
mechanicshopfemme.com
Chaya on Instagram
The New York Times Article
Natural Nerd Designs
Alma
Quotes
"But then this Pandemic happened and anybody can get sick and what happens if you go to the hospital? All of the sudden those spousal rights become incredibly important, especially in a queer relationship. " -Chaya
"Chaya being who she is, went to the internet and invited everyone and a lot of people came" - Morgan
"Weddings happen late, there are things that go wrong in everybody's wedding. But if you take the time to focus on those things, you're missing the moments." - Chaya
The Big Wedding Planning Podcast is...
Hosted and produced by Christy Matthews and Michelle Martinez.
Edited by Veronica Gruba.
Music by Steph Altman of Mophonics.
On Instagram @thebigweddingplanningpodcast and be sure to use #planthatwedding when posting, so you can get our attention!
Inviting you to become part of our Facebook Group! Join us and our amazing members. Just search for The Big Wedding Planning Podcast Community on Facebook.
Easy to get in touch with. Email us at [email protected] or Call and leave a message at 415-723-1625 and you might hear your voice on an episode
On Patreon. Become a member and with as little as $5 per month, you get bonuse episodes, special newsletters and Zoom Cocktail Hours with Christy & Michelle!
Our Partners
Special Deals for Listeners - TBWPP Enthusiastically Approved!
Susan's Travel Services
FlowerMoxie
The Flashdance
Cactus Collective
Unboring Officiant Special Guests: Chaya Milchtein and Morgan (Jodyann Morgan). Sponsored By:Susan's Travel Services: With over 25 years in the travel planning industry, Susan's Travel Services can fulfill your destination wedding and honeymoon requests for any location in the world, and ensure your guests have a fantastic vacation too Promo Code: Mention The Big Wedding Planning Podcast for discountsTen Ten on BlueNile.com: TEN TEN is an exclusive collection of ten one-of-a-kind engagement rings, designed by ten of the most distinctive designers working today. Using only diamonds responsibly sourced from Botswana, ten design masters have each produced a uniquely beautiful commitment ring -- launching exclusively on January 18, 2021, at Blue Nile dot com...and when they're gone, they're gone.
If you're making 2021 plans or on the hunt for the perfect ring to wear forever, you're definitely going to want to check this out.