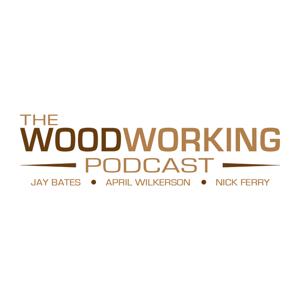 Episode notes:
Breaking News:
Nick – Miter spline jig - Continuing on hardware organizer w/ a simple router jig.
April – Organizing the shop.
Jay – Can't decide what to work on next.  Restoring Shawn Stone's hand plane.
Referenced Channels/ Videos:
Patrick's Workshop
Baking Soda & CA Glue
Film Riot
Indy Mogul
Submitted Questions:
Gary: Ever give any thought to having an automatic and/or timed drain valve for the air compressor?
John Martin: The three of you talked about your PC station, desktop, will it be possible for you to give us some kind of quick backstage tour showing your editing equipment, room, softwares ? Just a little video like Jay has done about his camera gear/tips and tricks.
Derek: My shop is effectively a deck at the cottage with a small building to store my tools. When I work I pull stuff out on the deck and when I'm done I put it all away. This means I don't have a workbench, and I'd really like one. Jay's workbench looks awesome, and I'd like to make something like that. The problem is it would have to live outdoors. Is it worth trying to build a workbench like Jay's that has to be outdoors? What might be done differently in constructing it, and finishing it to help it survive the weather? I'm curious what thoughts you might have on a project like this and whether I should attempt it, or just stick with the saw horses and old door I use now.
David Joyner: I'm planning a dust collector install for a new shop. One thing I haven't decided on yet is ceiling vs wall mount for the pipe. From videos it looks like ceiling-mount is pretty popular but I noticed Jay runs his along his knee wall. That looks a lot more convenient. Do you have any advice and, Jay, would you make this same decision again?