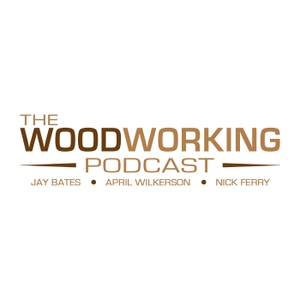 Episode notes:
Thank you to the following website contributors: 
TJ Hopkins
Brent Albrecht
Thank you to the following Patreon contributors: 
Saint Nicster
Christopher Michael Copes
Terry Burns-Dyson
Page Bonifaci
Frederick McIntyre
George Thomas
Darren Pruitt
Don Chesser
Nicholas Gomez
Instagram Links:
Jay
Nick
April
Follow Jon Peters by clicking the following links:
YouTube Channel
Instagram
Website
Watch his miter saw fence video: https://www.youtube.com/watch?v=UjB1UpNqY2k
Referenced Channels/websites:
Darbin Orvar
Wendall Castle http://www.wendellcastlecollection.com/index.cfm/do/WCC.home_modern_designer_furniture
Submitted Questions:
Todd Reimer - What do you think about impact drills vs non-impact for screwing. I have several impacts but seem to grab the non impacts lately to reduce noise & still get good results.
Scott Schneid - I have a craftsman miter saw that the fence is not straight The current fence is all one piece and it bows in just behind where the blade comes down. Hope this makes sense. Any good ideas on how to build another fence or temporary fence? My thought is if I attach a board I will end up cutting it in the middle which may throw off the squareness. Any thoughts or suggestions are appreciated.
Jeff in Oregon - I've never used a wipe on poly. What are the benefits of that over a more traditional brush on oil or water based poly?
Wayne Brown - Before you started Jon Peters art and home, what was your profession?