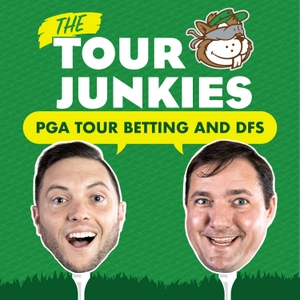 This DraftKings DFS preview for the US Open from Torrey Pines is lit as the boys host PGA TOUR Caddie, Paul Tesori. Paul gives some incredible insight into how the USGA is going to set up Torrey Pines, and the keys to playing well. The boys give their favorite DFS picks and fades in each DraftKings range and even make a bet involving some serious stakes. The "Best Friends Bet" will have either DB or Pat getting waxed live on the podcast by their spouse! Don't miss this!
Please support the podcast further by doing a few things to spread the TJ Gospel:
Join Goalby's Nut Hut, our private DISCORD chat w/ > 400 golf loving, DFS & Betting fans.
Get exclusive membership discounts at Fantasy National Golf Club by using this link.
Join Monkey Knife Fight & enjoy a simple, prop based fantasy golf game legal everywhere! Use Promo Code "TOURJUNKIES" & Sign Up Here! 
"Podcast Juice" provided by our friends at Wild Leap Brew Co. out of La Grange, Georgia.
Leave an honest iTunes Review. DB & Pat love reading all of these. It improves the show.
Follow on Twitter & Instagram ( @Tour_Junkies ) & FaceBook
As always, thank you for making the Tour Junkies your trusted source for all things PGA Tour betting and DFS. May your screens be green!