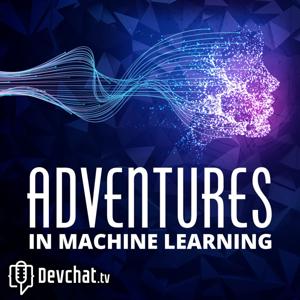 Antonio Alegria is the head of AI at Outsystems. He leads the effort to find ways to use AI to augment people's experience building software. He joins in to talk about how Outsystems approaches exploring and implementing
AI to make the lifecycle of software development easier.
Panel
Ben Wilson
Francois Bertrand
Guest
Antonio Alegria
Sponsors
Dev Influencers Accelerator
Level Up | Devchat.tv
PodcastBootcamp.io
Links
A.I., Machine Learning Job Opportunities: What the Experts Think
AI In Code Series: OutSystems - AI drives developer navigation, automation & validation
The Role of AI Within Low-Code Development
How to Become an AI Driven Organization + Using Prebuilt AI Tools to Get Started | OutSystems
Outsystems: Revolutionizing App Development for the Enterprise
António Alegria, Outsystems | Outsystems NextStep 2020 - YouTube
Augmenting The Work of OutSystems Developers With AI-Assisted Development
OutSystems Update: AI and Machine Learning for Application Development
LinkedIn: OutSystems
Twitter: OutSystems ( @OutSystems )
LinkedIn: Antonio Alegria
Twitter: Antonio Alegria ( @antonioalegria )
Picks
Antonio- Tesla AI Day
Ben- ZenML
Francois- 7 habits of highly effective people
Contact Ben:
Databricks
GitHub | BenWilson2/ML-Engineering
GitHub | databrickslabs/automl-toolkit
LinkedIn: Benjamin Wilson
Contact Francois:
Francois Bertrand
GitHub | fbdesignpro/sweetviz
Special Guest: Antonio Alegria. Sponsored By:
Top End Devs Coaching: If you have questions about how to grow your skills or take your career to the next level, join us on our next weekly coaching call. It's completely free.
Advertising Inquiries: https://redcircle.com/brands
Privacy & Opt-Out: https://redcircle.com/privacy