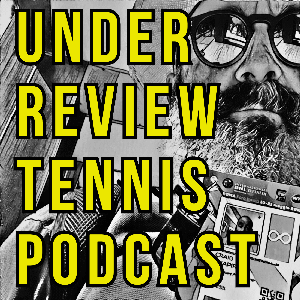 India's first professional athlete, VIJAY AMRITRAJ, is an icon of tennis. He's posted wins over Laver, Rosewall, McEnroe, Borg, Nastase and Connors. He quarter-finaled Wimbledon twice. And The US Open twice.  And with his brother Anand, he led India to two Davis Cup finals.
Beyond his tennis accomplishments, Vijay is an international brand ambassador, representing Rolex, Aston Martin, MasterCard and Unicef.  And if that's not enough, Vijay has also graced the silver screen starring in blockbuster Hollywood films like Star Trek IV and Octopussy.
The great VIJAY AMRITRAJ recounts how he came to America with 8 dollars in his pocket and ended up with more Rolexes than he can count. He shares what it's like to act Pinewood Studios in the morning and play Wimbledon in the afternoon. And he reveals the inside story of the origin of Brad Gilbert's phantom let cord obsession.
(Recorded August 24, 2019. Released October 6, 2019). UNDER REVIEW is a podcast in which tennis insiders share unique stories and insightful perspective. For more information, please contact:  info@underreviewtennis.com
SUPPLEMENTAL MATERIAL:
The Inside of Vijay's bespoke suit jacket commemorating the 50th anniversary of his first Wimbledon.
To read CRAIG'S ARTICLE about the HUGGY BEAR, subscribe to RACQUET MAGAZINE.
Vijay's battle with Bjorn Borg in the 1974 US OPEN: https://www.youtube.com/watch?v=YDFd4q3CycU
To hear more Wimbledon stories on UNDER REVIEW, check out: TIM HENMAN [Ep10], ANDRE SA [Ep33].
For the UNDER REVIEW episode with Vijay's son, Prakash: PRAKASH AMRITRAJ
KEYWORDS:
Aston Martin, Brad Gilbert, Huggy Bear, India, Jimmy Connors, John McEnroe, Newport Hall of Fame, Pancho Gonzalez, Prakash Amritraj, Anand Amritraj, Roger Moore, Rolex, Slazenger, UCLA, WCT