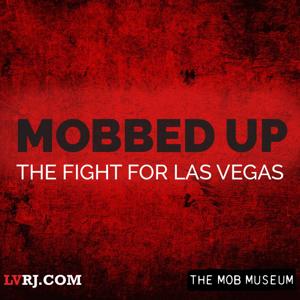 Mobbed Up chronicles the rise and fall of organized crime in Las Vegas through the eyes of those who lived it: mobsters, law enforcement officials, politicians, journalists, and Las Vegas Strip icons. From back alleys to bank vaults, dimly lit basements to the neon glow of Las Vegas, the Review-Journal in partnership with the Mob Museum will guide listeners through the 20th-century criminal underworlds of Chicago, Kansas City, Detroit, and Las Vegas.
Season 2 Description: It was an unforgettable era in the fight against organized crime in Las Vegas. In the late 1970s and early 1980s, Mafia crime families wielded hidden control over more than a third of the Strip's casinos, and federal and state agents were waking up to the enormous task of pushing them out.
Season Two of "Mobbed Up: The Fight for Las Vegas," an eight-part true-crime series, examines the Aladdin Hotel's pivotal role, and how entertainment giants Wayne Newton and Johnny Carson battled to buy the resort after the state banned its owners.
The series also looks at the mysterious disappearance of Teamsters President Jimmy Hoffa, whose mob-connected union pension fund loaned millions of dollars to Strip casinos and opened doors for organized crime.
You'll get an inside look at an unprecedented war between federal prosecutors pursuing the mob and Nevada's two federal judges, who questioned their tactics. And you'll see how the FBI struck a deal with a notorious brothel baron to accuse one of those judges, Harry Claiborne, of taking bribes, and how it led to the judge's impeachment by Congress.