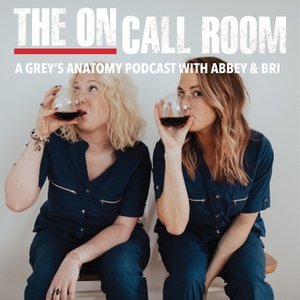 It is here. The big one. Season 3 is finally over and Abbey and Bri are shocked they've actually made it this far through the series.
Special guest Kelsi scrubs in this week and has knowledge Abbey and Bri could not even attempt to fake. She is a PA in a southern California emergency room (THE PIT) and damn good at her job, obvi.
THIS EPISODE IS ICONIC. It feels pretty boring through the first half but once it picks up momentum boy oh boy, it does not disappoint. We find out who Chief does and does not name to take his place. We see Meredith struggling to find peace in her relationship with Derek. Ava moves away (thank God). Izzie is stilllll pinning for George. Callie wants a baby. Addison is leaving. And then.....
Burke leaves Cristina at the alter. After practicing his vows in the OR to every drooling woman, he waits for a panicked Cristina to make it down the aisle. She has lost her eyebrows and she has lost her vows and cannot seem to meet Burke where he is at. Burke realizes he does not actually love Cristina, he loves the woman he thinks she will become. And just like that he is gone.
Cristina and Meredith stand together in a still fully furnished apartment and know that she is finally free. Is this good or bad? There are extreme hysterics, Ingrid Michaelson is playing and Meredith cuts Cristina free from the restraints of her wedding dress, holding her close. Where will Cristina go from here? Are Mer and Der over, so over? Is Callie going to have George's baby? Will Bailey recover from the loss of Chief Resident?
All that and more on Season 4 of The On Call Room!
Thank you to all of you listeners and patrons who have supported the podcast thus far. If you want to be a sustaining member and cohost head on over to:
www.patreon.com/theoncallroom
As always remember to subscribe and leave a review on iTunes. Seriously.