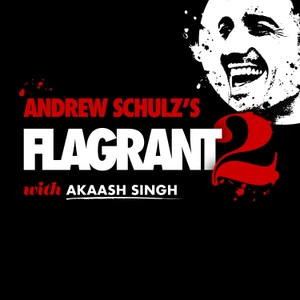 This week Andrew, Akaash, AlexxMedia, Mark, and Dov are joined by the Wolf of Wall Street himself, Jordan Belfort. The group discusses wallstreet's new fight with Reddit, the price of Gamestop stock, why Jeff Bezos stepped down from Amazon, Jimmy Kimmel, Lebron's recent scuffle with a fan and much, much more! INDULGE!
Want an extra episode a week? Join the Flagrant Army
www.Patreon.com/FLAGRANT2
Flagrant 2 is a comedy podcast that delivers unfiltered, unapologetic, and unruly hot takes directly to your dome piece. In an era dictated by political correctness, hosts Andrew Schulz and Akaash Singh, along with AlexxMedia and Mark Gagnon, could care less about sensitivities. If it's funny and flagrant it flies. If you are sensitive this podcast is not for you. But if you miss the days of comedians actually being funny instead of preaching to a choir then welcome to The Flagrancy.