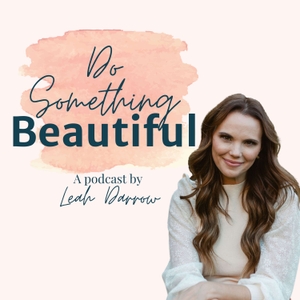 103: What Happens to You When You Listen to Chant? (with Br. Stefan, OP and Br. Alexandre, OP)
05.17.2021 - By Do Something Beautiful
In this episode, Leah is joined by Br. Stefan Ansinger OP and Br. Alexandre Frezzato, OP:  Dominican brothers from the Netherlands and Switzerland, who have begun the OP Chant Project, to provide and promote Gregorian chant according to the Dominican tradition. They tell the story of coming to learn and love what Leah's kids refer to as "God's music!"  (Gregorian chant), both before their vocation and in their Dominican community. They also share how and why they began a youtube channel devoted to sharing chant in the Dominican tradition, and what that is. Did you even know there was more than one kind of Gregorian chant?? The Brothers also discuss the uplifting daily effects of bringing Gregorian Chant into your life.
Advice on getting started: Don't worry about understanding the meaning. Just enjoy the melodies.
To listen to some of what the Fathers talk about, check out their youtube channel and their website.
Challenge for listeners from the Fathers: Learn the Chant MediaVita (text below)
 
The Antiphon "Media Vita" was formerly sung before the "Nunc Dimittis" at compline from the third Sunday of Lent until Passion Sunday. Nowadays it is sung as the Responsory on Saturdays, Sundays, feasts and Solemnities in Lent during Vespers or compline.
Media vita in morte sumus
Quem quaerimus adjutorem nisi te, Domine?
Qui pro peccatis nostris juste irasceris
Sancte Deus, Sancte fortis,
Sancte et misericors Salvator,
Amaræ morti ne tradas nos.
Versus: Ne projicias nos in tempore senectutis cum defecerit virtus nostra ne derelinquas nos Domine.
Translation: In the midst of life we are in death; of whom may we seek help but you, O Lord, who for our offences are justly displeased? Yet, O God most holy, O holy and mighty, O holy and merciful Saviour, give us not over unto bitter death.
Verse: Cast us not away in the time of our old age; forsake us not, O Lord, when our strength fails us.
Yet, O God...
HEY YOU! Yep. You. Are you Pam Beesly, Kelly Kapoor, or Jim Halpert? Could you possibly be Dwight?
No idea what I'm talking about? Then you need to check this out –> Join my team, Become a Patron, and join me in bringing and highlighting God's beauty in the world!
Have you checked out the Lux app? The Church and the world need you to be a light and to become who you were meant to be, and we believe in your ability to do it! Come join the community, be joined in prayer with a priest chaplain, get Catholic content and formation, and become the leader the world needs.Support the show (http://www.patreon.com/leahdarrow)