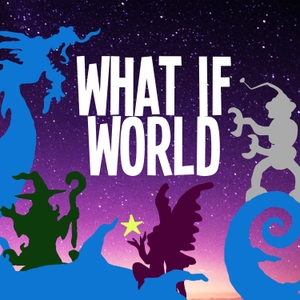 Myster E makes his debut and tries to answer every question in a single story! Fred might have to come out of retirement for this one.
Lessons include: You're never stuck as long as you keep asking questions; adding strange details to a story is fun, but too many of them can make your story confusing!
Join our Patreon for Ad-Free stories, a Shout-Out on the show, bonus audio, a better chance of having your question answered, and more! patreon.com/whatifworld
New Merch available at the Imaginarium! Featuring artwork from Ana Stretcu:  whatifworld.threadless.com
Subscribe to What If World wherever you listen: link.chtbl.com/whatifworld. Share questions via Twitter @whatifworldpod, Facebook @whatifworldpodcast, Instagram @whatifworldpodcast, or email [email protected]
What If World is made by Eric O'Keeffe with help from Karen O'Keeffe. Our theme song is by Craig Martinson and our podcast art is by Jason O'Keefe. Additional songs and sound effects from audioblocks.com. The week's artwork was put together using images from OCAL.
---
This episode is sponsored by
· Anchor: The easiest way to make a podcast. https://anchor.fm/app