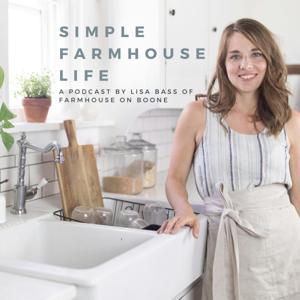 132. What to Look for When Buying an Old Farmhouse | Cathy & Garrett Poshusta of The Grit and Polish
05.12.2022 - By Simple Farmhouse Life
Looking for an older home can be scary and exciting all at the same time.  What are the most important characteristics to look for?  How do you know which flaws are deal breakers?  Cathy and Garrett have been renovating and restoring homes for over a decade, so they have seen the good, bad, and ugly of old houses.  In our conversation, they answer some of the most common questions I get about shopping for an old farmhouse.  This topic can be intimidating to someone unfamiliar with this realm, but Cathy and Garrett break it down in such an approachable way.  Maybe you have no intention of purchasing an old farmhouse, but you want to add that vintage charm to your existing home– Cathy and Garrett have some great tips for that, too!
In this episode, we cover:
- The top qualities to look for in an old house
- Where to begin the process of renovating a house
- Awkward layouts in old houses and when it's a deal breaker
- How to add character to a newly-built home
- What you need to know about a home's foundation
- Tips for evaluating the natural light in a home
- The biggest red flags to look for in an old home
- DIY decor projects to complement an old home
RESOURCES
An Easy (And Inexpensive) Kid's Nature Gallery Wall
Planning A Vintage Art Gallery Wall In The Pantry
DIY Pinch Pleat Curtains // How To Make Budget IKEA Curtains Look Like A Million Bucks
How To Replace A Skeleton Key For An Old Door
We Sampled 8 Popular White Paint Colors, Here Are Our Favorites...
Posts about marble on The Grit and Polish blog
Farmhouse Pantry // A Solid Marble Backsplash With Curved Corners (I Really, Really Love It!)
CONNECT
Cathy & Garrett Poshusta of The Grit and Polish | Website | Instagram | YouTube | Pinterest | Facebook
Lisa Bass of Farmhouse on Boone | Blog | YouTube | Instagram | Facebook | Pinterest | TikTok
Join us in the Simple Farmhouse Life Facebook community!
GET MORE FROM THIS EPISODE
Watch this episode on YouTube.
View full show notes and transcript on the blog.