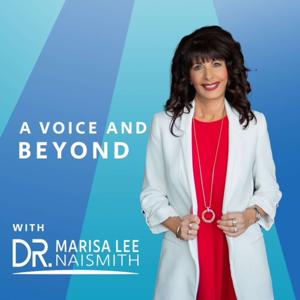 #35. When Science Meets Voice: My Serendipitous Life with Heidi Moss Erickson
10.31.2021 - By A Voice and Beyond
Today's guest is Heidi Moss Erickson.
Heidi is an acclaimed performer, voice educator and scientist, who prefers to describe herself as a seeker. In this episode, we get a rare snapshot into Heidi's personal and professional life as she opens up about what she defines as her serendipitous life. Heidi holds a double biology degree and a master's degree in biochemistry from the University of Pennsylvania, as well a music degree from Oberlin, and Heidi tells us how she was able to merge her passion for music, with her love of science.  In 2007, she suffered a rare facial paralysis and was told by doctors and singing teachers that she would never be able to sing again. Heidi shares with us the tremendous impact of this devastating injury, but also too how it inspired her deeper exploration into the science of singing and it was through her own investigation, perseverance, resilience, and adhering to a daily self-care regime that she was able to rehabilitate herself and prove everyone wrong. This life changing occurrence has allowed Heidi, to let down her barriers, become more vulnerable, accepting of herself and to continue on her journey of self - discovery.  In this episode, Heidi also discusses the similarities between music and science, the importance of neuroscience and voice training, how we must learn to accept mistakes when they occur in singing, in the same way that we do in a science experiment, the importance of playfulness in the singing lesson, the difference between the mind and the brain, the positives outcome adhering to a self-care regime and there is much more that you will learn from Heidi in this episode. You are going to love Heidi Moss Erickson.
In this episode 01:08 - Introduction 15:42 - Directing her science background towards singing 17:05 - Heidi Moss's facial paralysis injury 22:14 - Coping from a physical, mental & emotional perspective 24:14 - Returning to singing again 33:15 - Heidi's monster for negative self talk 37:32 - Obstacles during rehab and recovery  47:56 - Is there a difference between the mind & the brain 1:09:09 - Heidi's view on historical pedagogical text  1:16:55 - Final closing questions for Heidi
For more go to https://drmarisaleenaismith.com/35
Like this episode? Please leave a review here - even one sentence helps!
Follow me on Instagram.