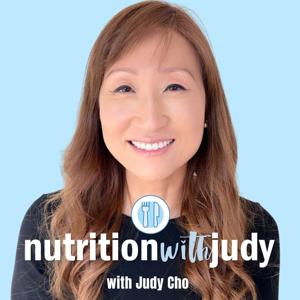 159. Why Salt Can Make You Fat and Have High Blood Pressure - Dr. Richard Johnson
02.14.2022 - By Nutrition with Judy
Hey guys!
This is part two of a two-part series. You can listen to part one here.
I've been waiting to share this very important discussion with Dr. Richard Johnson for a long time! This discussion is critical for every meat-based carnivore, especially if you also eat organ meats, alcohol, honey, and/or fruit.  Make sure to also check out my thoughts with @lauraespath on Cutting Against the Grain: https://www.buzzsprout.com/1848841/10012707 
Dr. Johnson has published over 700 studies and is a professor of medicine at the University of Colorado. He is also a clinician, educator, and researcher. He is board-certified in internal medicine, infectious diseases, and kidney disease and is the founding editor of Comprehensive Clinical Nephrology, one of the main textbooks on kidney disease. For more than 20 years, he has led research on the cause of obesity and diabetes, with special interest in the role of sugar (especially fructose) and uric acid. His research has been highly cited, published in top medical journals, and supported by grants from the National Institutes of Health. He is the author of The Sugar Fix and The Fat Switch. Dr. Johnson lives in Colorado with his wife, kids, and two rambunctious puppies.
We discuss the following:
01:31 Hadza group
02:28 Intracellular vs serum uric acid
02:51 Dehydration makes you fat
08:25 Salt and Obesity (Vasopressin and Copeptin)
11:58 How much water to drink
13:32 Kidney blood markers on Carnivore (no fructose)
15:25 Gout flares: Can sudden increases and decreases of purines, fructose and alcohol cause a flare?
19:15 Low creatinine and hypothyroid
19:47 When meat-only diets should be carefully monitored
21:34 Salt, blood pressure and weight gain
28:40 Blood pressure and kidney inflammation (fructose, uric acid and salt)
34:20 Risks of low blood pressure and ideal ranges
36:34 Other reasons for high blood pressure
39:31 Tips to reduce uric acid and dietary recommendations
43:16 Where to find Dr. Richard Johnson and his book, Why Nature Wants us to Be Fat
RESOURCES:Nature Wants Us to Be Fat: https://amzn.to/3B2p40v Website: https://drrichardjohnson.com/700+ Publications: https://scholar.google.com/citations?hl=en&user;=dTgECeMAAAAJThe Sugar Fix: https://amzn.to/3ru6zir The Fat Switch: https://amzn.to/3Jci7Nn Uric Acid Test: https://amzn.to/3GKOMHY____ CHECK OUT MY BOOK, Carnivore Cure SIGN UP FOR MY WEEKLY NEWSLETTER _____  ADDITIONAL RESOURCES Nutrition with Judy Articles Nutrition with Judy Resources Cutting Against the Grain Podcast _____  **DISCLAIMER: I am only here to provide support as a nutritional therapy practitioner and I am not providing medical advice. I always recommend working with a team of holistic practitioners, including your PCP and a certified nutritional therapy practitioner. Do not self-diagnose. Always seek medical guidance when you have a medical condition. Head over to paleovalley.com/nwj and get 15% off your first order. Promo code NWJ