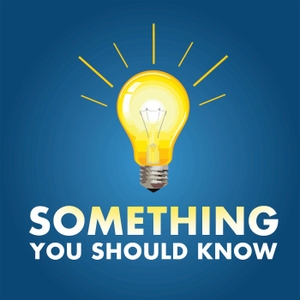 Why Smart People Do Stupid Things (and How to Stop It) & The Remarkable Power of Appreciation
07.22.2019 - By Something You Should Know
Ever flush the toilet with your foot to avoid the germs on the handle? It's one of many well-intentioned but flawed techniques to steer clear of germs lurking in nasty places. This episode begins with some ways people try to avoid germs that fail and better ways instead. http://www.menshealth.com/health/things-that-do-not-protect-from-germs/slide/2
Why do smart people do stupid things? Admit it, you've done dumb things and you KNOW you should have known better. What's so interesting is there are several factors that make it more likely you will do something stupid. Joining me to explain what they are is Adam Robinson who is one of the co-founders of the Princeton Review and is now a top financial adviser. He created a Power Point presentation called "How Not to be Stupid" and I know you will find this conversation interesting and useful. BTW, you can find Adam on Twitter – @IAmAdamRobinson. 
Ask people what makes them laugh and they usually say they laugh at jokes or humor. Well that is partly true but we laugh at a lot of other things too. Listen to hear what we laugh at most often and why. https://www.psychologytoday.com/us/articles/200011/the-science-laughter
When you show appreciation, wonderful things happen. That's according to Noelle Nelson who has written several books on the subject of appreciation including The Power of Appreciation (https://amzn.to/2JMOu87). She says there is real science that proves being appreciative is good for your physical and mental well-being and she joins me to discuss exactly how this works and how to put into practice. 
This Week's Sponsors
-Native Deodorant. For 20% off your first purchase go to www.nativedeodorant.com and use the promo code SYSK at checkout 
-Grove. Get a 3-piece cleaning set from Mrs. Meyer's spring scents, a free 60-day VIP membership, and a surprise bonus gift just for you when you sign up and place an order of $20 or more at www.grove.co/something
-Linked In Jobs. Get $50 off your first job post at www.LinkedIn.com/podcast
-Proactiv. Go to www.Proactiv.com/SOMETHING and with your order, you'lll also receive Proactiv's "On the Go Bag" (close to a $100 value!) PLUS FREE SHIPPING & a 60 Day Money Back Guarantee!
-Embark DNA Kit. Go to www.EmbarkVet.com and use Promo code SOMETHING to save 15% off your Dog DNA Test Kit