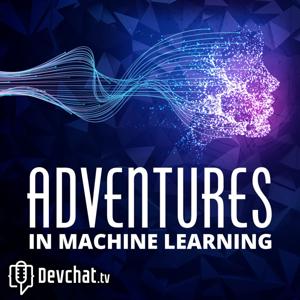 Ken Youens-Clark joins the adventure to discuss how to write well factored code with tests to help ML be more approachable. He, Ben, and Chuck discuss what it takes to write good code that runs efficiently, is easy to maintain, and still get ML work done.
Panel
Ben Wilson
Charles Max Wood
Guest
Ken Youens-Clark
Links
GitHub: Ken Youens-Clark ( kyclark )
Twitter: Ken Youens-Clark ( @kycl4rk )
Picks
Ben- David Thorne 
Charles- Xero
Charles- Fireside
Charles- Devchat.tv/levelup
Ken- Meditation and Mindfulness
Contact Ben:
Databricks
GitHub | BenWilson2/ML-Engineering
GitHub | databrickslabs/automl-toolkit
LinkedIn: Benjamin Wilson
Contact Charles:
Devchat.tv
DevChat.tv | Facebook
Twitter: DevChat.tv ( @devchattv )
Special Guest: Ken Youens-Clark.
Advertising Inquiries: https://redcircle.com/brands
Privacy & Opt-Out: https://redcircle.com/privacy