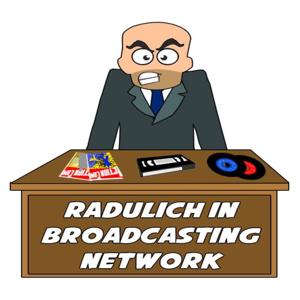 Xenoblade Chronicles 3 Impressions, Batgirl Movie Canceled, Sony's Major Call of Duty Concerns Correct - VG2M # 317
08.05.2022 - By Radulich in Broadcasting
On our latest episode, so is Call of Duty "nothing special?" or is it "indescribable?" These are the statements put out by Microsoft and Sony concerning whether or not it would be ok for Call of Duty to be owned by Xbox.

Sean and Marc debate on who's right considering some other factors at play involving the franchise as well. Is it a good idea to have them skip a year? And is there really no way to have a COD competitor?

Warner Bros. Discovery has apparently shelved Batgirl and it may be due to monetary reasons. Why not just release it on HBO Max instead? And was there any interest in this film? Does it further the negative narrative about DC Films?

Also, it is finally here, Sean has initial impressions of Xenoblade Chronicles 3, the game he's been waiting for all year. Does it live up to the hype and all of the praise from critics? What about the story, the characters, and how is the battle system?

Plus, the duo have their say on the reports that Grand Theft Auto VI is set in Miami and will feature a Latina main character. Sean is obviously a lot more excited, but Marc has some concerns for sure.

The next Tomb Raider game's plot may have leaked, EVO is going to have a press conference type event called EVO Live, will there be some big announcements? Also, rumors are swelling about a huge D23 for Marvel Disney Plus shows. What are the guys excited about from the big slate?
You can also check out the podcast a little earlier by watching over on our Youtube Channel, W2M Network, by going here: https://youtu.be/rzGsdb2VoEk
Timestamps:
00:00:30 Intro & Housekeeping
Special Entertainment Topic
00:03:10 Batgirl Movie Canceled, Could HBO Max be canned too? And What Marvel stuff could be announced at D23 Expo 2022
What's in the Gaming News
00:32:30 Sony's Concerns Over Xbox Owning Call of Duty and Microsoft's response to it, Will the acquisition actually go through?
00:48:10 Grand Theft Auto VI Set in Miami And Feature a Latina Lead
00:59:15 PS Plus & Xbox Game Pass Games
01:05:30 Next Tomb Raider Game's Plot Possibly Leaked
01:09:40 Warhammer 40K Dark Tide Gets Delayed Again
01:12:35 EA Pays for Naming Rights for Spain's La Liga
01:13:55 Could Mortal Kombat 12 Be Announced at EVO Live 2022?
01:18:10 AEW Fight Forever Gets Some New Info
Games We Are Playing
01:20:45 Bloodborne & Remnant from the Ashes - (Marc)
01:25:50 Xenoblade Chronicles 3 - (Sean)
Join us on Discord: https://discord.gg/aydMgvUN9d
Visit Our Website: https://w2mnet.com/
Follow Us on Twitter: https://twitter.com/w2mnetwork
Sean Twitter: https://twitter.com/W2MSean
Marc Twitter: https://twitter.com/HumanityPlague
Follow us on Twitch: https://www.twitch.tv/w2mnetwork
Follow Us on Facebook: https://www.facebook.com/W2MNetwork