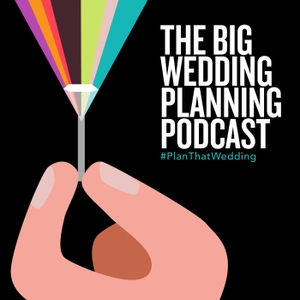 On the last Wednesday of every month, Christy & Michelle answer listener questions live on the show - YAWA! This month we're answering questions about: engagement parties, a ceremony planner, a bride with fibromyalgia and eloping in France!
We're able to produce this podcast because of YOUR support. If you want to learn more, check out our Patreon Page.
If you want to become a Patron, and get exclusive access to our monthly newsletter, bonus episodes, and more, check out our Patreon Page!
A giant thank you to all of our Patrons, who help keep this podcast running! Learn more by checking out our Patreon Page.
Plan your wedding using The Big Wedding Planning Master Class. A self-paced digital course created with love for you by Christy & Michelle.
Question #1
I got engaged in December 2020 and my wedding is in May 2022. I'm doing a destination wedding with about 40 vaccinated people. This was planned with Covid in mind. We are fortunate enough to be able to have our wedding at a winery that has a bnb which we were able to rent out for all of our guests. So we will have our own little bubble for our wedding weekend, which I'm so excited for. I do have a lot of family members who would still like to celebrate me and my fiancé and while I appreciate that, I kind of feel uncomfortable throwing any type of engagement party or bridal shower where I have family that's attending but not invited to the wedding. I just feel like I don't want to be throwing a party and expecting people to feel like they need to help me throw a party or give me gifts or anything, especially if they're not coming to my wedding, which is absolutely not what I want. My mom and soon-to-be mother-in-law though is constantly reassuring me that, that's not what people are thinking and people just want to celebrate us, but I just wanted to know your thoughts on having a bigger engagement party or bridal shower as opposed to the not having a wedding that would include all those people that are invited to the precursor events.
AnswerChristy: If they want to host a party for you, the guests at that party are more likely to be there for them and less for you. Not to say it's not about you, it is. But there is less room for the weirdness of them not being invited to the wedding. Try to get out of your own way a little bit. This party could be a totally hands off, fun day for you. People do just want to celebrate you with your mom and mother in law.
Michelle: It does feel a bit weird. And can be easy to gravitate to the awkwardness of expectations. However, when people have a destination wedding, they never invite everyone or at least not as many people as they would if it were local. As long as most of your guests are aware that you're having a very small wedding, and that your mom and mother in law just want to have a party/celebration, then it could be really good. Let them handle the whole thing. The wording of the invite should be about a celebration of you getting married. If the original driver for a small wedding was covid safety, make sure they know that too.
Question #2
2 questions - one is regarding a catering coordinator, and the second is about getting ready time for 6 ladies.
Do I need a ceremony planner? We have booked a caterer, and their services come with "Basic Coordination". It seems like this coordination covers everything we need for planning the reception, but their planning is very hands-off when it comes to the ceremony. Do you think we should hire a planner to just cover the ceremony?
Getting ready schedule: We are going to have an 11am ceremony, and I am a little worried about the getting-ready schedule in the morning. Our photographer would like to have our first look at 9am. I'm a morning person, and I'm happy to wake up around 6am but don't want to wake up earlier than that so that I'm not panicked about sleeping the night before. Do you think there is a reasonable way to fit this into the morning without making everyone wake up too early? Is it reasonable to ask a hairdresser to only spend 30 mins max on each person's hair? What if the bridesmaids come to the venue a bit later than me because they don't need to be ready by the first look?
Answer
It depends. Is your ceremony at the same place as your reception? Is your officiant a professional, or a friend? Is there a venue manager? (I'm thinking about who will be there to manage Strike at the end of the night.) If there is a venue manager, you can probably get away without one. If not, and your officiant is not a professional, and the venue isn't necessarily used to weddings, you should definitely hire one. Also, the final chapter in our masterclass is all about this. Including ceremony, rehearsal, layout, etc.
Totally have your gals do their own makeup and talk to the hair stylist about your desire to keep this part of the day pretty short and simple - I think 45 minutes per lady is what she is going to prefer. She should be able to help you with a timeline. And if she can bring an assistant, you'll be able to get more done in less time. Also - bridesmaids usually know that part of the 'job' is waking up early and being there whenever the bride tells you to be!
Question #3
I hope I'm not jumping the gun in my question, but I have a big one (in my opinion). I have a chronic illness, fibromyalgia. It can be very tolling on me. Fibromyalgia causes widespread pain and serious fatigue. There are times when I just can't function because of my illness and I want to stay in bed. I am worried that this could happen to me on the big day OR that I may not be able to enjoy the big day as much because I will be overexerting myself.
Often, when I overdo myself or have higher than normal levels of stress then I suffer the consequences. We recently celebrated our engagement with an engagement party, and man oh man was that tough!! I was a social butterfly, greeting and celebrating with all my guests. I was spent by the end of the night, and don't even get me started with my recovery over the next couple of days. I'm bumming out/worrying that I won't be able to celebrate in the bedroom on my wedding night, if you know what I mean ;). I'm wondering what advice you may have for a chronically ill bride to be? I know what I can do on my end, such as resting leading up to the day but I'm curious if you have specific ideas on what I can do on my wedding day to make things easier on me. I hope my question can help many individuals because I can only imagine I'm not the only one that suffers from some type of chronic illness.
Answer
This is such a good question - I'm glad you wrote us! And I'm really glad that you are finding the podcast helpful with wedding planning so far. I don't know what I have any good advice for you since you know your own body and your ebbs and flows with this illness. I know you are already thinking of mitigation strategies...I haven't worked with anyone with chronic pain like this, but I have worked with a groom with intense social anxiety and he ended up cutting out of his own reception about three hours early on the wedding night. I think you need to give yourself a lot of grace and ask your close friends and family to help you manage things on the wedding day...like, have a few Plan Bs for the whole wedding weekend..."if this, then this", type of stuff. Your people want to help you enjoy the weekend to YOUR fullest extent and they will likely be a lot easier on you than you are on yourself! Also, please know that most people don't actually ef on the wedding night. Everyone is exhausted/drunk/over it/exhausted again. You have plenty of time for that later!
And staying in one location will definitely make it easier on you and everyone else! I think you should make sure to take a few days off before the wedding, and a few days off afterwards, honeymoon or not. Take care of yourself and listen to your body. I hope this helps a little! We do have an episode coming out soon with a health and wellness advocate and she talks about events for people with autism and other issues/illnesses, and how to create a fun environment for everyone, but I don't know that she speaks to chronic pain specifically.
Question #4
For background, we are eloping to France next April and then hosting a small (35-ish people) dinner party at a resort venue in Sonoma County, California next May after we get back from our honeymoon. We live in Michigan with family and friends all over the place.
My question is: the venue for the dinner is beautiful but I would like to add perhaps some flowers or greenery to the table. The majority of our budget is going towards the elopement and the venue/food/beverage fee for the California dinner party so I need to find a very low-cost option. I've looked into decor rentals and they are beyond what I would want to spend for a simple, 3-hour celebration dinner. I also thought of having guests each bring a bouquet to display on the table but we are already asking them to fly across the country and book accommodations so that doesn't seem fair.
I would love your thoughts on how I could add something to the plain white linens that are included with our venue space. Traveling from Michigan, I won't have much room to bring things with me since I will also be bringing my wedding dress to wear for everyone.
Answer
This dinner sounds absolutely lovely. In Sonoma, you are surrounded by beauty, and the food/ wine will be wonderful. I don't think you need to do much for decor. If you can't afford rentals - and it's wine country where they are VERY expensive - then totally scrap the idea. White linens, regular chairs and tons of bud vases with grocery store flowers will 100% do the trick. For greenery - you can get fresh eucalyptus branches and snip them ahead of time, then use them on any supplemental tables, like a dessert table, or a welcome table, or as a runner in front of you and your fiancé at the table. Little candles are always beautiful and photograph really well (just make sure you ask the venue about candle rules too - little tea lights in glass votive holders are usually fine). I like save-on-crafts.com for vases and candles. You can also get really cheap glass vases at Walmart or the dollar store. If you're going with small vases, it's easier to do your own flowers. But you need a LOT, imo. Still very affordable.
Links We Referenced:
save-on-crafts.com
The Big Wedding Planning Podcast is...
Hosted and produced by Christy Matthews and Michelle Martinez.
Edited by Veronica Gruba.
Music by Steph Altman of Mophonics.
On Instagram @thebigweddingplanningpodcast and be sure to use #planthatwedding when posting, so you can get our attention!
Inviting you to become part of our Facebook Group! Join us and our amazing members. Just search for The Big Wedding Planning Podcast Community on Facebook.
Easy to get in touch with. Email us at [email protected] or Call and leave a message at 415-723-1625 and you might hear your voice on an episode
On Patreon. Become a member and with as little as $5 per month, you get bonus episodes, special newsletters and Zoom Cocktail Hours with Christy & Michelle!
Our Partners
Special Deals for Listeners - TBWPP Enthusiastically Approved!
Wedfuly
SuitShop
The Flashdance
Cactus Collective
Unboring Wedding Academy