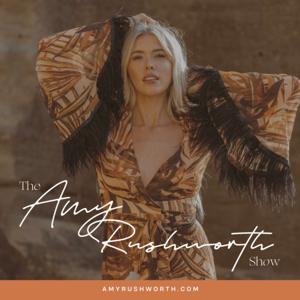 73 - Your Vulnerability + Authenticity Will Set Your Business Apart with Melissa Moffet
03.31.2021 - By The Amy Rushworth Show
Melissa is a magnetic empowerment, money and business coach who loves supporting her clients in simplifying and amplifying their lives and their heart-led, of-service businesses. Her masterminds, courses and masterclasses guide humans to find self-guidance, fulfilment and success. In this episode we talk all things business, money, prosperity and the alignment, authenticity and inner work required to achieve your desires. 
In this soulful chat, we cover...
✨ Her journey from crippling social anxiety to magnetic openness with a large audience. 
✨ Why showing the full spectrum of your personality helps you gain the trust of your followers.
✨ How she ignored the scarcity narratives of 2020, rewrote the rules and achieved quantum growth during a recession.
✨ Why aligning your goals with your heart will bring MORE abundance (plus lessons you might not expect).
✨ The linear lens of business VS the seasons of healing.
✨ Why your inner work always reflects as your outer experience. 
✨ Breaking down social programming and scarcity by committing to your shadow work.
✨ How to address the guilt of "who am I to receive...?"
✨ Moving through limiting beliefs so you can benefit others while you make amazing money.
Connect with Amy...
UNAPOLOGETIC (new 2022 biz immersion) >>> https://amyrushworth.com/unapologetic
Insta - @thisisamyrushworth
Website - amyrushworth.com
FREE ABUNDANCE BUNDLE - https://amy-rushworth.mykajabi.com/the-abundance-bundle
Join Amy's OA Membership - https://amyrushworth.com/orgasmic-ascension
Connect with Melissa...
Instagram - @melissamoffet
Website - https://www.melissamoffet.com/
--------
Major thanks to our sponsor, The Happiness Planner!
For 20% OFF the app: Use code AMYRUSHWORTH
For 10% OFF journals: Use code AMYCONFIDENCE