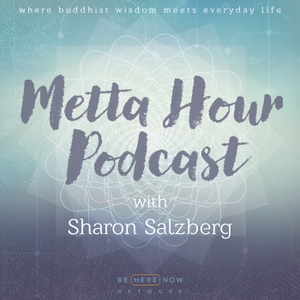 For episode 162 of the Metta Hour, Sharon speaks with Zainab Salbi.
Zainab Salbi is a humanitarian, author, and chief awareness officer of Find Center, a platform for personal development and growth. Oprah Winfrey has named her one of the 25 women changing the world to People Magazine, and President Clinton nominated her as a "21st Century Heroine." At the age of twenty-three, Zainab founded and led Women for Women International, a humanitarian organization supporting women survivors of wars. She is the author of several books, including the national bestseller "Between Two Worlds" and her latest "Freedom is an Inside Job."
In this conversation, Zainab and Sharon speak about the next steps of healing in a time of incredible division and hatred in the world. Zainab shares her process of discovering her own biases and shadows as an activist and how her journey to healing these aspects of herself inspired the writing of her latest book, "Freedom Is an Inside Job." She shares how she has learned to balance the fire and passion of her activism work with meditation and well-being practices, and gardening. They speak at length about the crisis in Afghanistan as the United States withdraws troops from the region and the resulting aftermath and destabilization, particularly for women who are most at risk.
Warning: Please be aware that this conversation includes mention of sexual abuse and violence.
See Privacy Policy at https://art19.com/privacy and California Privacy Notice at https://art19.com/privacy#do-not-sell-my-info.