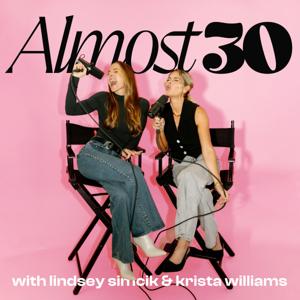 Almost 30
By Krista Williams & Lindsey Simcik
What's Almost 30 about?
Welcome to Almost 30 - a supportive space to fuel your conscious evolution. Join us, LA-based best friends Krista Williams and Lindsey Simcik, for heart-centered, hilarious conversations and real, raw, impactful interviews with brilliant guests. We dive deep into topics like modern spirituality to health and wellness, aliens to entrepreneurship, social justice, and self development. 
With every episode, our mission is to empower you, expand what you think is possible and,  make you laugh - a lot. We are honest, open, and above all, human. We are committed to learning right alongside you in real time so we can all find growth in every moment together. 
With millions of listeners around the world, Almost 30 has grown from a pioneering leader in the podcast space to a highly engaged global community. #Almost30Nation is full of purposeful dreamers who are curious, passionate, and constantly seeking growth in every aspect of our lives. 
Join us for new episodes every Tuesday + Thursday!
This podcast uses the following third-party services for analysis:
Chartable - https://chartable.com/privacy
Podsights - https://podsights.com/privacy