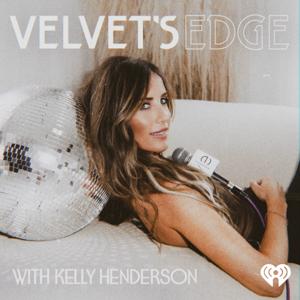 Velvet's Edge with Kelly Henderson
By Nashville Podcast Network
What's Velvet's Edge with Kelly Henderson about?
Kelly Henderson began her career in the Nashville country music scene over 15 years ago, orchestrating her impressive ascent from the ground up. Working closely grooming and styling for country music heavy-hitters Dierks Bentley, Jason Aldean, Riley Green and Jordan Davis, as well as media giants CMT, Billboard and more, Henderson has established herself as a go-to resource within the industry.  Henderson began offering an intimate insight into her work via her highly successful lifestyle blog, "Velvet's Edge," which began as a place her audience could find tips on fashion, travel, fitness, health and more.  As Henderson evolved, so her content has expanded. "People aren't one dimensional, even though sometimes we try to live that way," she says. With an ever-growing demand from her invested online followers, Henderson has now launched an extension of her blog in the form of a podcast of the same name via iHeartMedia. She uses her expertise and speaks from a decade long journey in 12-step recovery, intensive experiential therapy and other holistic modalities combined with her successful career as a tastemaker, artist and stylist to explore the deeper inner working of humans, celebrities and healers alike. The Velvet's Edge Podcast normalizes hard conversations, "taboo" topics and people's ever evolving journeys, while promoting healing, inner peace and the road to a happy and fulfilling life experience. The podcast is built on Henderson's motto, "Everyone has a little Velvet and a little Edge, I'm just here to help people feel comfortable with that and hopefully get on the path to living their best life." 
New episodes are released every Wednesday and Friday, with Henderson leading the charge on Wednesday's on 'the Velvet' side of things- interviewing experts, celebrities and spiritual leaders in line with each monthly topic. She is joined on Friday's for 'the Edge' by co-host and friend, Chip Dorsch, to explore the lighter side of the things, laugh and connect with listeners!