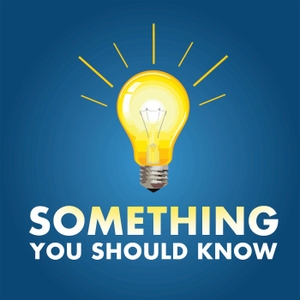 A Better Way to Look at Success and Failure & How to Buy and Wear Clothes That Look Great
10.03.2019 - By Something You Should Know
Most people never read the "Terms of Service" when they download an app. However, when you click OK you enter into a contract that says you will abide by those terms. So this episode begins with a look at what terms you are agreeing to. And you will be shocked. http://www.menshealth.com/guy-wisdom/why-you-should-read-the-terms-of-service
Fear of failure is one of the big reasons people fall short of their goals. However failure today is seldom as serious as people think according to consultant and coach Alan Weiss. Alan has coaching clients all over the world and has written over 60 books including Million Dollar Maverick (https://amzn.to/2oJ3MUr) . He joins me to bring a fresh look at success and failure that will motivate you to follow your dreams. 
What are you supposed to do with that ball of cotton that comes in almost every bottle of pills you buy? I'll explain that and why storing medicine in the bathroom is such a bad idea. http://easyhealthoptions.com/get-that-cotton-out-of-your-medicine-bottle/
The clothes you wear project an image And there is a good chance you are buying and wearing clothes that project the wrong image according to fashion stylist Lauren Rothman. Lauren writes the column "What to Wear, Where" for the Inc. magazine website and she is author of the book Style Bible (https://amzn.to/2o8V1md). Listen as she offers some great advice that will give you the confidence to buy the right clothes and make them look great so you appear absolutely fabulous. 
This Week's Sponsors
-Capterra. To find the best software for your business for free go to www.Capterra.com/something
-Babbel. Lean a new language. Try it for free at www.Babbel.com