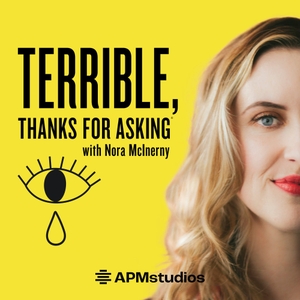 After losing his mother and his first wife Karen, Mark found new love with Melissa, one of the nurses who took care of Karen in her final days. They're working together to overcome Mark's fear of more loss, more death. And now, they're ready to have children.  
Update 1/26: Correction: The original version did not include context about Melissa and Mark's decision to not go through with chemotherapy. Even with chemotherapy, Isla only had a 1-2% chance of survival. Isla was 10 weeks old and was blind, in pain and having seizures. Also, when Melissa and Isla were transferred to the hospital in Calgary, Mark was not allowed in the hospital due to COVID-19 restrictions and Mark had to FaceTime them the next day.
Our twice-monthly newsletter features behind-the-scenes content, previews of upcoming episodes and more. Sign up.
When you shop our Bookshop.org store, you support the author, independent bookstores AND our show! Shop here.
Shop for your favorite TTFA gear at TTFAmerch.com
Read the transcript for this episode here.
You can catch up with TTFA on Instagram, Twitter and Facebook using @ttfapodcast. Nora's Instagram is @noraborealis.
TTFA is public media. Which means we are supported by you. You can join us with a contribution at ttfa.org/donate
And check out our sponsors this week:
Yarlap: yarlap.com with code TTFA
Calm: calm.com/thanks
Trust and Will: trustandwill.com/terrible
Upstart: upstart.com/thanks