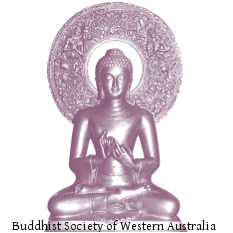 Ajahn Brahmali doesn't often get the time to visit us at AMG and we are most grateful when he does because he is an excellent teacher.
Ajahn began by reminding us that the instructions while the same, repeated as they are help reinforce our meditation practice. The changes in our minds happens over time. The time it will take to reach deeper meditation states will vary greatly between each of us. The instructions though usually very simple can actually have a very profound affect on you over time. Hence the need for repetition.
Ajahn then guided us through meditation slightly longer than 30 minutes that is well suited to experienced and novice. Following meditation Ajahn opened to questions. Ajahn then gave a talk on that one subject we in western society tend to avoid. Ajahn delivered an explanation using his own very recent experience of having arranged and conducted a funeral for his father.
Please support the BSWA in making teachings available for free online via Patreon.
To find and download more Armadale Meditation Group Teachings, visit theBSWA teachings page: more teachings, choose the AMG teachingyou want, then type the title into the Podcast search box.