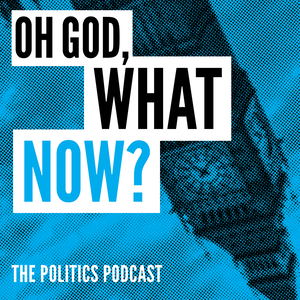 Last week's EU:UK vaccine stand-off put Ursula von der Leyen squarely in the spotlight, but what makes the President of the European Commission tick? And is there a sane Conservative Party somewhere in our political future? Matthew d'Ancona – formerly deputy editor of the Sunday Telegraph and the Spectator, now partner-editor of the slow news site Tortoise – joins us to look at what might come after Johnsonism. Plus, Dacre at OFCOM, foreign bees comin' over 'ere pollinating our plants… and why are we paying EU citizens to leave the UK?
Regulars Minnie Rahman of the Joint Council for the Welfare of Immigrants and commentator Alex Andreou join Dorian Lynskey to ask – yet again – "Oh God, what now?"
"The great offices of the state are now in the hands of C-list populists." – Matthew d'Ancona"Everything from bees to cheese is undergoing a death by a thousand papercuts" – Alex Andreou"It's as if there was a party game at Number 10 to work out who would be the worst chair of OFCOM, and they came up with Paul Dacre." – Matthew d'Ancona"It doesn't feel like the hardline post-Brexit immigration approach is coming from Johnson. It's pure Priti Patel." – Minnie Rahman"The vaccine episode proved that as far as the EU are concerned, yes, we are a foreign country." – Matthew d'Ancona
Presented by Dorian Lynskey with Minnie Rahman and Alex Andreou. Produced by Andrew Harrison. Assistant producers: Jacob Archbold and Jelena Sofronijevic. Audio production by Alex Rees. OH GOD, WHAT NOW? is a Podmasters production. See acast.com/privacy for privacy and opt-out information.