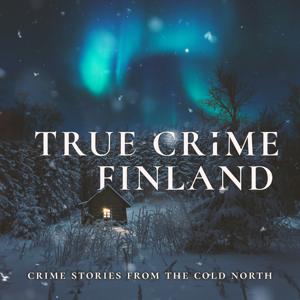 Episode 051 : Ampumaratasurmat (The shooting range murders)
08.09.2019 - By True Crime Finland
Towards the end of February in 1999 on a slow Sunday, officers patrolling in the center of Helsinki were tasked with a case that, at first, sounded difficult to believe.
Sudio: use the code truecrimefinland at checkout to get 15% off your purchase https://www.sudio.com/us/earphones/tolv-pink
I will regretfully not be able to attend the True Crime event in Helsinki next week. Nonetheless I'm sure you will enjoy your time if you are going!
If you are able to and would like to help me with the costs of this podcast, you can do that on Patreon where you can donate as little as two dollars a month and in return, get exclusive access to ad-free episodes, scripts, bonus episodes on various topics and other nice rewards. Visit the page at https://www.patreon.com/truecrimefinland
Art is by Mark Pernia
Music is "Night" by VVSMUSIC
My art store: https://society6.com/minnanen
Podcast swag store: https://www.redbubble.com/people/tc-finland/shop?asc=u
Email: [email protected]
Website: https://truecrimefinland.squarespace.com  
Facebook group: https://www.facebook.com/groups/507039419636994/  
Twitter & Instagram: tc_finland