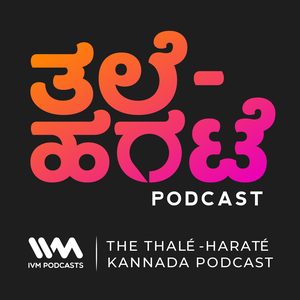 Did you grow up watching the Jungle Book cartoon TV series and the Ramayana cartoon movie? Guess what? They were not just any cartoons, but anime from Japan. Hosts Pavan and Ganesh introduce listeners to the world of anime on Episode 104 of the Thale-Harate Kannada Podcast. They explore what makes anime special and perhaps distinct from western animation, they dip into nostalgia and discuss the first anime shows that came on Indian cable television, and break down common misconceptions of the anime medium.
While you are here, dear listeners: Dear listeners: thank you for taking us beyond episode 100! We would like your help in making Thale-Harate even better, please take this short survey: https://tiny.cc/haratesurvey 100 commemorative badges are being given away to listeners who complete the survey.Currently, in India, people can legally watch a selection of anime on Netflix and Amazon Prime Video, apart from a few kid's shows running on TV channels.Here are some recommendations from the hosts, if you are new to anime:
0. Movies from Studio Ghibli (Directed by Hayao Miyazaki, all available on Netflix) 1. Full Metal Alchemist: Brotherhood (Netflix) 2. Demon Slayer: Kimetsu no Yaiba (Netflix) 3. Dororo (Prime) 4. Vinland Saga (Prime) 5. Laid-Back Camp (Netflix) 6. Kuroko's Basketball (Netflix) 7. Violet Evergarden (Netflix)Pavan's full list of anime on MyAnimeList: https://myanimelist.net/animelist/zeusisdead
ಫಾಲೋ ಮಾಡಿ. Follow the Thalé-Haraté Kannada Podcast @haratepod. Facebook: facebook.com/HaratePod/ , Twitter: twitter.com/HaratePod/ and Instagram: instagram.com/haratepod/ ಈಮೇಲ್ ಕಳಿಸಿ, send us an email at [email protected] and tell us what you think of the show. The Thale-Harate Kannada Podcast is made possible thanks to the support of The Takshashila Institution and IPSMF, the Independent Public-Spirited Media Foundation.