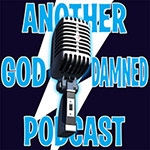 The Westboro Baptist Church may have to close up shop. Hooray! Or ... wait a minute. Is free speech inviolable? The Herd takes SI to task for his published position on the Fred Phelps case.
More on free speech and Nazis, and Fred Phelps.
Well, speech may be free -- but does it have to go on for so long? The discussion finally draws to a close. The Herd's original vision for this podcast, in Philly's words, was a Heretic Happy Hour. Frequently, we find one another so stimulating and/or annoying that we can't resist shooting the shit even when we're not bantering about the week's agreed-upon topics. OG, our sneaky engineer and editor, often records these encounters. Here's a segment of one such conversation.
Introducing the AGP Medal of Honor, which is awarded to its first recipient. This week's poll results are not really a surprise.