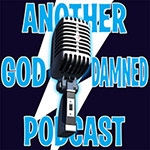 Do non-theists believe their own sets of weird things? The Herd says "yes," but you don't have to take our word on faith; just listen. First of all: Does Evil exist? Chappy falls into Ex's evil trap. SI says it's just an adjective, but Evo isn't willing to go even that far. Wasn't Hitler evil? Find out why Evo would answer "no".
How do conspiracy theories fit into our question? Are some conspiracies worth being agnostic about, while others are clearly fantastic? We learn from Chappy why people might either believe in a god, or some other form of woo - but not both. What is it about the human mind that makes even us rationalists seem to need some sort of woo? Ex tries to put words in SI's mouth, but SI spits them up and demands a break.
SI believes that we're hardwired to believe something. Was he the subject of an anal probe? Ex hears many faith-based statements - and not necessarily the ones that mention "faith" or "God" - at the political conventions. Chappy sees that kind of "faith" as just wanting to be with the winning team. One of us fulminates about the irrationality of sports fans. [Hint: It's not Philly.] Does Jesus have anything on Roger Maris?
Ex reveals that we had no correct answers to Another Goddamned Puzzle. Evo says there was a similarly empty email bag on the Science Quiz. Even the poll results were closer than normal. SI thanks god for sunshine, while Evo thanks a listener for a plug. Only one of them gets a "you're welcome," though. Can you guess which one it is?