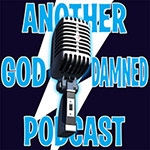 Philly starts the discussion by pointing out a novel argument for removing the phrase, "under God," from the Pledge of Allegiance. The herd discusses this and some other rationales until OG reminds everyone of the best reason of all for removing the phrase.
Segueing smoothly from the Pledge of Allegiance to a discussion of Good News clubs, the herd is frustrated that churches are using elementary schools to advertise their programs. Should non-school groups be allowed to advertise in schools? Moving on to more good news, the herd notes that the state of Kentucky has enlisted God into the Kentucky Dept. of Homeland Security. SI enlightens everyone about some of the legal issues involved in both of these matters.
Philly digs down deep into the mailbag and pulls out a Dear Chappy letter that she is uniquely qualified to answer. After that discussion winds down, the herd considers a letter that prompts them to consider what documents, if any, a newly-elected atheist should use to take the oath of office.
OG shares the latest poll results, then closes with her thoughts about a judicial decision that the state of Florida got right. That really is good news.