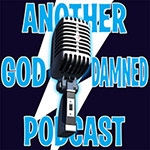 The Herd "celebrates" its 20th podcast by talking a little more personally. First we look at how we manifest our atheism in our non-Internet lives. Find out which members of the Herd are surrounded by theists and how we deal with it. What does Philly do when Mrs. Chief dips into the woo? Evo can't resist bringing in a story about woo and evolution.
More about spouses. Then we examine whether skeptics can instantly identify like minds. If so, how does our A-dar work? In living our atheist lives, do any of us have a mission? What oral (or other) arguments could be made to us that would sway us to believe in a god? Philly says: "You can't argue something into existence." So what evidence would a theist have to present? Ex takes a break to consult the stars.
"God" is the first explanation for a strange event to many people. But, obviously, not for the Herd. In fact, it would be the absolute last. OG would need a trip to heaven supported by scientific observations. What would Richard Dawkins need? More importantly, what would he need to get back to writing about science? We discuss the value of his writing about atheism. Ex and Evo aren't pleased that he's changed his focus.
The rest of the Herd chimes in on Dawkins, supporting his work as Atheist-In-Chief. Ex gives Venjanz another chance. Which of us hates sad-eyed fictional bunnies? And stick around for the out-takes: Another Goddamned Dittty.