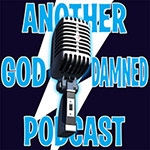 This week's sitting members of the Herd find themselves on the same side as a cult, in a recent case involving the Summum.
Philly feels some cults have a point, at least when they're on the same side as Pastafarians. Chappy explains where all those granite Ten Commandments came from that seem to be prevalent in public parks around the nation. SI gets pissed off about a recent initiative passed by the voters of Arkansas.
The conversation drifts to a discussion about a recent teen declared to be the next Buddha.
Philly wants to know the test for Buddhahood. SI believes he qualifies for Buddhahood (sorry, no pictures), but thinks something smells. The logical progression of the conversation then naturally turns to guns. Apparently, the recent election has brought out the gun nuts. The herd chews on some nuts, then turns on Sarah Palin, then goes back to the guns.
The Herd finishes up with a basic rag session on theists, especially the one's who show up in the blogosphere.
Outtakes.