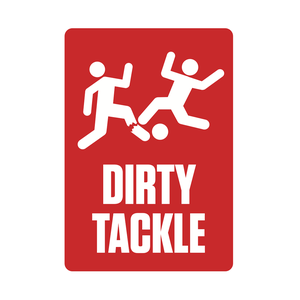 "Arsene Wenger's Golden Toilet"
03.10.2018 - By Dirty Tackle
Ryan, Brooks, and Theo are reunited to discuss actual dirty tackles perpetrated against them, Arsene Wenger losing his marbles, and German fans touching themselves at Bundesliga matches. Unai Emery advertises his services, the PSG-Real Madrid tie is analyzed, as is Marco Reus' personal website, and Jose Mourinho's move to RT.
To hear our bonus "Extra Time" segment, contribute and join the ET Gang at patreon.com/dirtytackle! This week's topics: Messi in a bad Pepsi ad, Mo Salah's good deeds, and Mike Piazza: angry in Italy. Contact us at DirtyTackle@gmail.com with your Dirty Tackles of the Week and Life Ref queries, and find us on Twitter @DirtyTackle, @BrooksDT, @RyanJayBailey, @TheoMessiDT, on Instagram @DirtyTackle, and at Facebook.com/DirtyTackle.
Join our Togga fantasy Premier League Perfect XI group! Compete against Brooks, Theo, Ryan, and Producer Bobo! tog.ga/dirtytackle.