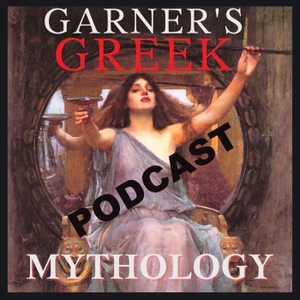 This is episode 5 of Garner's Greek Mythology.  Here we discuss Athene, the so-called rational goddess of war. Was she? Hardly. Like all the gods she was complex and riddled with contradictions.
Her stories are frequently those of passion and outrage. Reason was often set aside by this goddess who was considered the most intelligent of all the Olympic gods. Her sternness masked her fierce ardor.
Narrated by mythologist and best-selling author, Patrick Garner,  Garner's Greek Mythology is unlike any other Greek history series. The series views these divine beings as if they were anything but mythical...
Listen as we meet the ambitious Arachne; the mighty Zeus; the ax-wielding craftsman, Hephaistos; Athene's childhood girlfriend, Pallas; the wily Odysseus; the ill-fated prophetess, Kassandra; and the blind prophet, Teiresias, who was punished after lingering to watch the goddess bath.
We learn how Athene, Athens' protector, did little when Athens was in peril--and why the Athenians loved her despite her constant absences ...
If you love these podcasts, you'll also enjoy Garner's novel Homo Divinitas, now available as an audio book on Amazon.com and Audible.com.
And our adventures continue!  (Musical score includes selections from Fesliyan Studios.) Support the show (https://www.patreon.com/garnersgreekmythology)