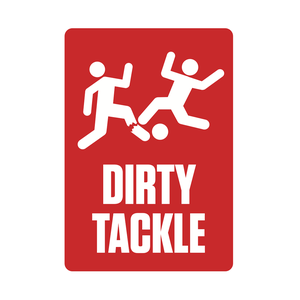 "Aubameyang's Poisoned Orange Juice"
10.15.2017 - By Dirty Tackle
This episode was recorded before the US were terminated in Trinidad, so Brooks and Theo open with a few words on the shame of American soccer. But in the main episode, Brooks, Theo, and Ryan have dirty tackles for clubs that sell real merchandise for fake players, creepy Uncle Steve, and Dr. Gordon Strachan. Plus, Bob Bradley advertises his latest product, Harry Kane trademarks his boringness, and Life Ref decisions are made on whether Andres Iniesta and Andrea Pirlo should continue their playing careers. 
To hear our bonus "Extra Time" segment, contribute and join the ET Gang at patreon.com/dirtytackle! This week's topics: The Messi Experience Park, the Ballon d'Or shortlist, and US players getting carried through puddles. Contact us at [email protected] with your Dirty Tackles of the Week and Life Ref queries, and find us on Twitter @DirtyTackle, @BrooksDT, @RyanJayBailey, @TheoMessiDT, on Instagram @DirtyTackle, and at Facebook.com/DirtyTackle.
Join our Togga fantasy Premier League Perfect XI group! Compete against Brooks, Theo, Ryan, and Producer Bobo! tog.ga/dirtytackle.