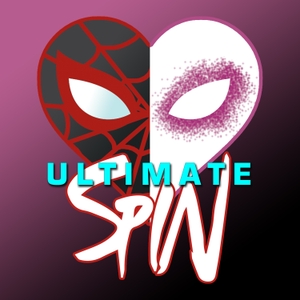 (Recorded June 3 and June 7, 2018)
Haven't read it yet? Pick up this issue today at Comixology!
In this episode, Brian and Jack ponder honesty vs. truth as the confrontation with the Kingpin comes to a head in the complex and stunning Spider-Gwen #32. We also catch up with Miles' recent appearances in other titles and OHMYGODDIDYOUSEETHESPIDERVERSETRAILER?!?!?!?!?
* 0:00 – Intro; Catching up with Miles' recent and upcoming appearances, plus…
* 7:09 – Into The Spider-Verse trailer reaction!
* 16:36 – Spider-Gwen #32 – A dense issue with a lot to unpack!  Honesty vs. Truth. Gwen Stacy and her awesome speeches. The long game for Gwen's well-earned victory. Jack rants about one line of dialogue. Farewell to the Kingpin? What happens next?
* 51:46 – Our three word summaries of the issue.
* 52:23 – Outro; What did *you* think of this issue (and the trailer)? Let us know! And coming up…
Stuff that we mentioned in this episode:
* The TRAILER!!!!
* One Perfect Shot
* Reviews for Spider-Gwen #32
* Spider-Man Annual #1
* Invincible Iron Man #600
* Superior Spider-Talk review of Amazing Spider-Man #800
* Secret Invasion
* Hannah Blumenreich's Mary Janes story in Spider-Gwen #23 (and our episode discussing it)
* Sir Mix-A-Lot
* Alex Jones Mis-Info Wars
* Seppuku
* "I HAVE THE POWER!!!!"
* The Sequelisers take on Spider-Man 3
* Join the Amazing Spider-Slack! From our friends at the Amazing Spider-Talk podcast!
* Untold Talks of Spider-Man podcast
Also check out:
* Jack's website;  Podcasts: The Sequelisers!
* Brian's Twitter/Instagram/Podcasts/assorted nonsense
Links:
* Ultimate Spin at iTunes
* Ultimate Spin at Stitcher
* Ultimate Spin at Google Play
* <a href="https://www.facebook.