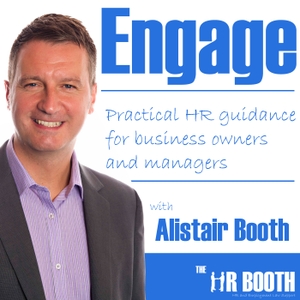 In episode 11 of Engage, Alistair discusses the benefits of building relationships with Trade Union or Employee Representatives in the workplace.
Alistair recently attended the annual HR Network Conference in Edinburgh, with the focus very much on workplace culture. Alistair believes the relationships you adopt with your representative groups and employees helps shape the culture of your organisation.
Alistair has worked in unionised and non-unionised companies, and has seen it first hand how effective or damaging these relationships can be.
Deciding how you wish to structure relations with your employees can help benefit your business. If you recognise a trade union, it will benefit your business if you enjoy a good working relationship with its representatives. You may also benefit from union expertise on issues such as health and safety, drawing up disciplinary procedures, training, etc.
This episode will help you understand the role of a trade union, the benefits of union recognition and how to work effectively with union representatives. You can also get some constructive feedback from your union reps on how their members are feeling, and sound them out on new ways of working.
ACAS have developed a good guidance booklet on Trade Union representation and details can be found HERE
Whether or not you recognise a trade union, you must still allow your employees the right to be accompanied at disciplinary and grievance hearings by a Trade Union official if they wish to do so. Refusing a request could land you in trouble as it's a statutory right to be accompanied and therefore an employee could raise a claim to an employment tribunal.
Businesses who don't recognise Trade Unions can still benefit from creating employee forums or working parties, with employee representatives appointed to represent different areas of the business. Alistair has seen these groups work well and not so well, and shares some good practice on this area.
ACAS have also produced an advisory booklet on representation at work. Click here for more information.
By involving your employee or TU reps, you can create a positive working environment, get real time feedback on what the issues are, and test out new ideas to help drive your business forward.
For further information on this podcast, you can contract Alistair directly via email – [email protected], via the website www.thehrbooth.co.uk

Disclaimer: You must not rely on the information in this podcast as an alternative to Human Resource Management advice from an appropriately qualified professional. If you have any specific questions about any Human Resource Management matter you should consult an appropriately qualified professional.
You should never delay seeking Human Resource Management advice, disregard Human Resource Management advice, or commence or discontinue any Human Resource Management action because of information in this podcast.
Please contact The HR Booth directly for specific advice and guidance.