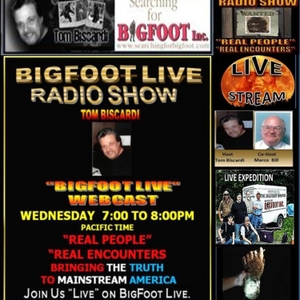 THE BIGFOOT LIVE RADIO SH0W-410 16 MAR 2016
THIS WEDNESDAY EVENING 7-8PM PACIFIC TIME THE BIGFOOT LIVE RADIO SHOW.
1. TOM IS OUT DUE TO DEATH IN THE FAMILY. ROCKY DOES SHOUT OUTS TO OUR FRIENDS, EXTENDED FAMILY AND LISTENERS. ROCKY BRINGS US UP TO SPEED WITH CURRENT BIGFOOT EVENTS.
2. GUEST-1 MARCO BILL INTERVIEWS KUMIE, SARA, AND ROCKY WHO HAVE LOST WEIGHT ON THE NORCAL
HEALTH SOLUTIONS AND DISCUSS RECENT PROGRESS.
3. ROCKY INTERVIEWS SWEDE OF ARKANSAS AND TALK ABOUT THEIR ENCOUNTER EXPERIENCES WITH THE CREATURE .
4. ROCKY INTERVIEWS TJ OF SFBI TEAM AND TALK ABOUT RECENT AND PAST EVENTS HE EXPERIENCED
SEARCHING FOR THE CREATURE.
5. MARCO INTERVIEWS ROCKY AND T.J. OF SFBI TEAM AND TALK ABOUT PAST EXPERIENCES AND ENCOUNTERS
WITH THE CREATURE. FINAL COMMENTS THEN CLOSE SHOW.