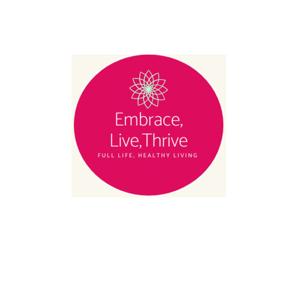 Episode 30: Breaking Down Barriers and Understanding Counseling: A Holistic Approach to Post-Partum Care
08.04.2021 - By Embrace. Live. Thrive.
Today Stephanie Korpal, M.Ed., LPC-S comes on and shares so much valuable information about understanding what therapy is, why it is important, and what are signs for when we might need to consider seeking counseling. She talks about the statement "but, its not that bad" is likely a sign your perception is off and that you are already ready for help. Stephanie shares about the importance of making rhythms and automate as much of your schedule as you can so you can make sure to make time for other things likes dating your significant other and making time for yourself.
This episode is one that I truly I think all mom's need to hear. Stephanie is beyond generous with all of the important information she shares and this episode is loaded with tips, encouragement, and support for all mothers. Please take the time to listen, but also share with all of your mom friends. There is something in Stephanie has to say that they all need to hear.
Ways to find Stephanie:
Website: www.marblewellness.com
Phone: 636-234-3052
Email: [email protected]
FB: @marblewellnessSTL
Instagram: @marblewellness
Stephanie's Bio:   
I believe that everyone deserves a life free from feeling overwhelmed, anxious, and/or depressed on a daily basis. And even if those feelings aren't present on a daily basis, but are present on a "more often than not" basis, I believe you deserve a life better than that. Those feelings can rob you of so much energy, joy, and hope. They can take away your sense of purpose, social connection, and belief in a hopeful future. They can negatively impact your work performance, relationships, and can take away your potential to thrive. And that's no place to live your life. When you work with me in the counseling process, I get to know the whole you—from your physical health habits to your support system to your daily tasks (and everything in between!) —so we can have the best opportunity of getting you to a place of feeling healthy and able. We reflect on patterns to build a better future. We talk about how your days and weeks flow and adjust micro-habits and incorporate bigger activities if that fits. I want to help you wake up each day confident in your ability to tackle any obstacles that may (and let's be honest: will!) arrive. And to feel less stressed when you're doing just that! And to also be in a place where all of those positive feelings! Excitement, happiness, and fulfillment that can easily flow into your daily experience. ​Often, that involves changing some of your thought processes while also increasing your self-care habits and tools for emotional regulation. It involves learning more about yourself and being willing to show up to get the results.  It isn't something that happens overnight, but when the change does happen, it is something you can carry forward for the remainder of your life. That may seem like a lot to do, but that's why I am with you—teaching, exploring, and keeping you accountable. ​Counseling is not a process that is always easy, but it's a process that is worthwhile. Because you are worthwhile. And if that is a belief you're grappling with I can hold onto it for you until you are ready to hold onto it yourself. Embrace, Live, Thrive
FB: @embracelivethrive
Instagram: @embracelivethrive
Website: www.embracelivethrive.com