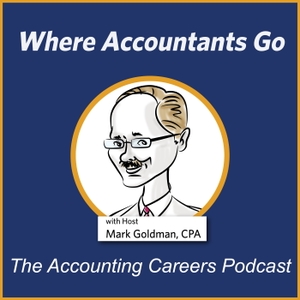 Robin Thieme, CPA and owner of KBS CFO in Maryland, joined us for this episode of Life In Accounting, the Where Accountants Go podcast to discuss her career and building a virtual CFO practice.
Always interested in tech
Robin starts the interview by sharing with us that she has always, and she means always, been interested in how technology can make life better.  From the time when she was a little girl and played "future house" with her friend, she imagined all the technological advances (translation: gadgets) that may be invented later on to make our lives easier.  It's no surprise that as she got into her accounting career, she was naturally drawn to learning about how technology could be integrated into accounting processes.
Getting the experience
Even with the interest in technology, Robin's career started in a "typical" fashion.  She worked a while in public accounting, and then moved into industry where she gained a lot of the experience she now uses to serve as CFO for several organizations.  Eventually she decided she wanted more control over her time for family reasons, and she started her own virtual CFO practice.  It wasn't long after that she hired her first team member, and now that team has grown to 12 people in total – including both domestic and international employees.
The truth about remote work
Since remote work flexibility is such a large discussion in the marketplace today, I took the opportunity to ask Robin about the realities of working remotely, both as a consultant and as an employee.  There are definitely many benefits, but there are also some trade-offs that she mentions as well.  Make sure you listen to the audio interview if remote work is something you are considering either with your employer or as a contractor.  It's always good to be informed about how something really works by someone that has actually done it before.
If you enjoy hearing Robin's story, make sure you check out these episodes as well:  Joseph Rugger and Carrie Bradshaw.
For our publication highlighted in this episode, "Hiring for Accounting: A Comprehensive Guide to Filling Accounting-Related Positions", please click here.
To listen in on this podcast with Robin Thieme, please click on the player below: