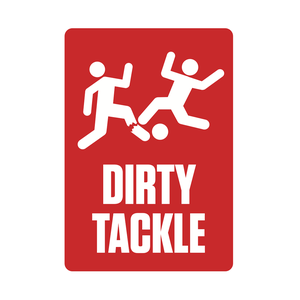 "Building The Lewandow$ki Brand"
12.02.2017 - By Dirty Tackle
As we kick off the festive season, Ryan takes issue with Poland for gaming the World Cup draw system, Theo defends the honor of Claude Makelele, and Brooks reveals the depressing plans for the Lewandowski brand. In "True Are Ya?" the origins of the Brighton-Palace rivalry are investigated, as are Arsene Wenger's knitting habits. Finally, pre-match monkeys, and Pep Guardiola letting his players decide Man City's transfer business are covered in another edition of Life Ref.  
To hear our bonus "Extra Time" segment, contribute and join the ET Gang at patreon.com/dirtytackle! This week's topics: the best part of football according to Sinisa Mihajlovic, the red balls of the Sarajevo derby, and Sam Allardyce saving Everton. Contact us at DirtyTackle@gmail.com with your Dirty Tackles of the Week and Life Ref queries, and find us on Twitter @DirtyTackle, @BrooksDT, @RyanJayBailey, @TheoMessiDT, on Instagram @DirtyTackle, and at Facebook.com/DirtyTackle.
Join our Togga fantasy Premier League Perfect XI group! Compete against Brooks, Theo, Ryan, and Producer Bobo! tog.ga/dirtytackle.