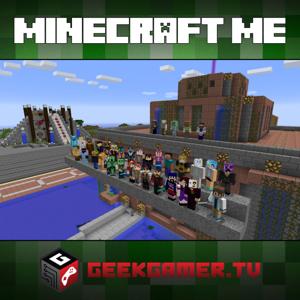 This week, we reveal the Top 3 vote getters in the Camping Server Challenge!  We also cover the Minecraft News of the Week, give you guys a Resource Pack Pick and take your questions!  All this and more on Minecraft Me!
Show notes and episode page here: http://ggtv.me/mm152
Please RATE, FOLLOW and SUBSCRIBE!
Support Minecraft Me on Patreon! http://patreon.com/minecraft
YouTube:  http://youtube.com/GeekGamerNetwork
Dailymotion:  http://dailymotion.com/GeekGamerTV
Twitter:  http://twitter.com/GeekGamerTV
Facebook:  http://www.facebook.com/geekgamertv
Google+:  http://plus.google.com/+GeekGamerTV
Steam:  http://steamcommunity.com/groups/geekgamertv
Hosts: Chase Nunes, Joseph Falbey
Minecraft can be found at: http://www.minecraft.net
 
Support the show on Patreon and become one…TODAY!
GeekGamer.TV Updates via E-Mail: Subscribe to GeekGamer.TV by Email
Like our Facebook Fan Page, Join our Facebook Group, Steam Gaming Group and also follow us on Twitter!
Connect with us!
Minecraft News:
Minecraft Windows Phone Edition
http://www.geekwire.com/2014/minecraft-released-windows-phone-following-2-5b-microsoft-acquisition/
Mojang rejected plans for a 'Goonies-style' Minecraft movie, says director
http://www.polygon.com/2014/12/13/7386783/minecraft-movie-director-goonies
How Minecraft may make bitcoin the 'official currency of virtual worlds'
http://venturebeat.com/2014/12/12/how-minecraft-may-make-bitcoin-the-official-currency-of-virtual-worlds/
Minecraft Gameband could be the start of a wearable gaming charge
http://www.wareable.com/gaming/minecraft-gameband-specs-release-date-features-price-579
Beta launcher 'leaked' on Minecraft Subreddit by Dinnerbone
http://www.reddit.com/r/Minecraft/comments/2p31cu/we_need_your_help_testing_a_new_launcher/
Campground Top 3 Results!
1st – Fifty2Eighty
2nd – Mr_Buzzz
3rd – rhii, liser5
Pack Pick!
Simplistic 1.8 – Submitted by Sheafferking
http://www.planetminecraft.com/texture_pack/simplistic-18-a-minecraft-resource/