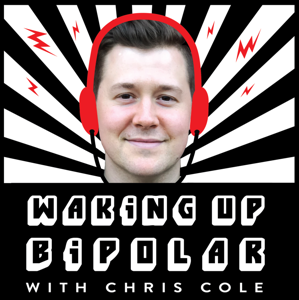 SparkTalks, dynamic presentations that share the wisdom of Naropa University's alumni, will open your heart, broaden your perspective, and enliven your spirit. At age 18, Chris experienced what he thought was a spiritual awakening, only to be diagnosed with acute manic psychosis. After struggling for years amid an affinity for spiritual material and an aversion to psychopathology, he now finds refuge in Love, which holds space for it all.
Watch the full talk on YouTube here: https://youtu.be/xemu9UaC40w
Big thanks to Naropa University and Kelly Watt, for putting on the inaugural SparkTalks event. Learn more about Naropa here: http://www.naropa.edu/
Thank you ALOC Media and John March for the incredible production. Learn more about ALOC Media's Colorado-based, cost-effective, professional media services here: https://alocmedia.com/
JOIN THE DISCUSSION at https://www.facebook.com/groups/wakingupbipolar
Chris Cole hosts the Waking Up Bipolar podcast, focused on the intersection of bipolar disorder and spiritual awakening. He is the author of The Body of Chris: A Memoir of Obsession, Addiction, and Madness, inspired by his own journey of spiritual unfolding and mental health challenges. Chris Cole offers life coaching for any number of mental health conditions, specializing in bipolar disorder and spiritual emergence. Chris's experience with addiction, disordered eating, body dysmorphia, psychosis, and spiritual emergency allows him to relate to a wide range of clients. He utilizes a holistic approach to mental health which views wellness in physical, mental, emotional, social, and spiritual domains. Learn more about Chris and his work at colecoaching.com.
The Waking Up Bipolar podcast in now available on the following platforms:
Apple Podcasts | apple.wakingupbipolar.com
Google Play | google.wakingupbipolar.com
Stitcher | stitcher.wakingupbipolar.com
TuneIn | tunein.wakingupbipolar.com
wakingupbipolar.com