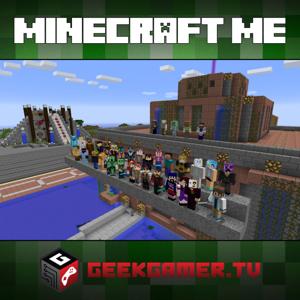 Our yearly Christmas and Holiday Minecraft Me Special is here!  We show off over 20+ wonderful holiday themed Minecraft creations from our awesome community!
Show notes and episode page here: http://ggtv.me/mm154
Please RATE, FOLLOW and SUBSCRIBE!
Support Minecraft Me on Patreon! http://patreon.com/minecraft
YouTube:  http://youtube.com/GeekGamerNetwork
Dailymotion:  http://dailymotion.com/GeekGamerTV
Twitter:  http://twitter.com/GeekGamerTV
Facebook:  http://www.facebook.com/geekgamertv
Google+:  http://plus.google.com/+GeekGamerTV
Steam:  http://steamcommunity.com/groups/geekgamertv
Hosts: Chase Nunes, Joseph Falbey
Minecraft can be found at: http://www.minecraft.net
 
Support the show on Patreon and become one…TODAY!
GeekGamer.TV Updates via E-Mail: Subscribe to GeekGamer.TV by Email
Like our Facebook Fan Page, Join our Facebook Group, Steam Gaming Group and also follow us on Twitter!
Connect with us!
Christmas Minecraft Creators in this episode!
carrot_crafty
ccocking
Deadigger, Evanescentangel
Fifty2Eighty
fuzzycupid
girlofawesomes, ltb00999, Lucy_Pevensie
Gradrok
pcteppum
jeninthemorning
Kiendro & Dtherr
legoman67627
lincoln1313
ltb00999
Mr Nicoster and MartyGraw76
Pcteppum
PhantomBird
SheafferKing
SirdigsAlot and Pcteppum
skeletor8849
skytraveler2012 and Pumpkinman2001
SodaPop2013
Yiwenbowen
Zimultimate2123, iMineguy1776, glibgreeb
Zombie_Pigman42
Patreon Supporters for This Episode!
AKBoarder23
Allieblaster
andyb2k
Benjamin "Aractor" White
BlastForCats
Bob Sawyer (Gradrok)
BuckeyeCarl
Chris Hobart (X00CH)
Colin B
Dave and Ashley Packard
Davis Therrell
Doudrious
Douglas Ramsey
Ed
G0atBabe
GaurhothW
IRON_Midge
jeninthemorning
Jose "Doctor Who" Olivera
Jsolid110
Matt Myers
Mazdoc88
McKeznak
Michael Laws (proslaws)
Oscar Cerna
pcteppum
Peggum
Peyton Ninnemann (Peyton025)
plleg
rapnit
rapnit