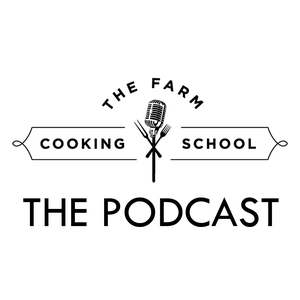 So far we've covered the amazing chefs, farmers, and other food experts who make The Farm Cooking School as delicious and educational as it is. But we still haven't talked about the people most important to the vision we're cultivating in our fields and kitchens: you, our community!
After all, what's a cooking school without students? And what's a farm without mouths to feed? From the very first classes to last week's farmer's market, everything we do here at the school is about reconnecting people with their food and each other.
On this week's episode, I talk with Ian to get the inside scoop on our foundational series at the school: "Learn to Cook". Anyone who partakes in this series seems to be drawn into our wider family of cooks and food lovers. It's pretty much the kind of cult you want to be involved in. Then, Shelley sits down with one of her very first students, the inimitable Bette Baer, for a walk down memory lane and a look at how far the school has come in the last five years. Finally, we take a market tour at one of our farm festivals and talk with some farmers and friends about connecting with and feeding our community.