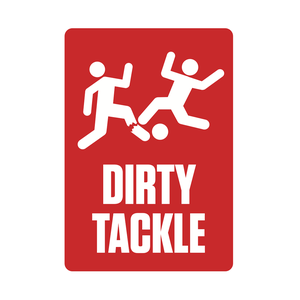 "Dani Alves Presents: The Worst Dirty Tackle Awards"
10.27.2017 - By Dirty Tackle
Brooks and Theo debate Pep Guardiola's "light ball" excuse while Ryan takes aim at the Everton fan who fought Lyon players while holding a child. Plus, exclusive dramatizations of Luke Shaw's letters to Victor Lindelof are shared, Maradona's love of Harry Kane is discussed, and The Worst Dirty Tackle Awards live up to their name. 
To hear our bonus "Extra Time" segment, contribute and join the ET Gang at patreon.com/dirtytackle! This week's topics: Huddersfield beating Man United, Barcelona replacing Neymar with Own Goal, Mino Raiola taking control of Zlatan's career, and Neymar getting pelted with French cliches. Contact us at DirtyTackle@gmail.com with your Dirty Tackles of the Week and Life Ref queries, and find us on Twitter @DirtyTackle, @BrooksDT, @RyanJayBailey, @TheoMessiDT, on Instagram @DirtyTackle, and at Facebook.com/DirtyTackle.
Join our Togga fantasy Premier League Perfect XI group! Compete against Brooks, Theo, Ryan, and Producer Bobo! tog.ga/dirtytackle.