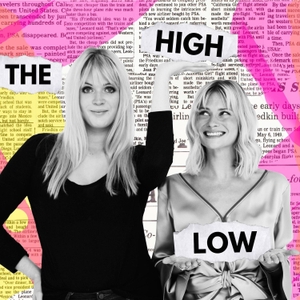 Does A Slogan Tee Have The Power To Offend?
12.10.2019 - By The High Low
The High Low has launched merch! Roll up, roll up: berets, sweaters, t-shirts, tote bags and notepads are on sale at www.thehighlowshop.com and 10% of all profits go to Women's Aid. Order by December 18th to get your goodies in time for Christmas.
Today we discuss Boris's prediction for a post-Brexit "bonking bonanza", the brilliant scheme that is Press Pad and (more) global idioms.
Also today, the woman who was chucked off an American Airlines flight for her "offensive" slogan tee, which read 'Hail Satan.' Are words the same as actions? Dolly says no; Pandora thinks that in our scripturient time, they just might be.
Links
Donate to PressPad https://natwestbackherbusiness.co.uk/diversifythemedia
 
Elizabeth Is Missing, on BBC iPlayer https://www.bbc.co.uk/programmes/m000c6pv
Wild Game: My Mother, Her Lover and Me, by Adrienne Brodeur https://www.penguin.co.uk/books/111/1116165/wild-game/9781784742577.html
How To Throw A Great Christmas party, by Raven Smith https://www.thetimes.co.uk/article/raven-smith-on-how-to-throw-a-great-christmas-party-shpjjgnjm
Ode to the Dinkus, by Daisy Alioto for The Paris Review https://www.theparisreview.org/blog/2018/06/08/ode-to-the-dinkus/
The Manifesto Read https://www.manifestoread.com
E-mail [email protected]
[email protected]
*Please note that although there will be a Christmas special released on 18th December, The High Low is now on maternity leave until April 2020 and the inbox will not be monitored during this time*
 See acast.com/privacy for privacy and opt-out information.