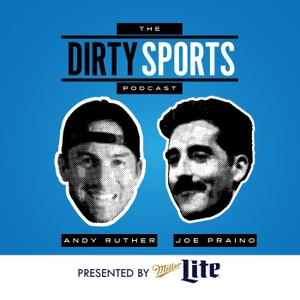 EPISODE 588: ESPN Needs a Seperate Channel for JJ Watt
01.06.2020 - By Dirty Sports
With Andy Ruther away the Twin Towers will play! Joe Praino is joined by GOAT guest host, Tug Coker. They open the show with a recap of NFL Wild Card weekend including drunk Josh Allen, the end of the Patriots dynasty, the annual Saints playoff failure and yet another Carson Wentz injury. They then discuss Mike McCarthy to the Cowboys and wrap the show with their favorite Vince Carter memories and a preview of tonight's premiere of The Bachelor. Yes, really.
www.patreon.com/dirtysports
www.manscaped.com - Promo Code "Dirty" for 20% off.
Subscribe on YouTube - www.youtube.com/DirtySports
Follow us on Instagram: www.instagram.com/thedirtysports/
Follow us on Twitter - www.twitter.com/thedirtysports
Follow Andy Ruther on IG - www.instagram.com/AndyRuther/
Follow Joe Praino on IG - www.instagram.com/JoePraino/